Perseus
Operation: Perseus
The National Patriot Activist Army plan on stealing our missiles to target the capital city. Defend each silo until reinforcements arrive. Good luck, Black Company.
Details

Map:

Narrows

Type:

Defense

Camo setting:

Woodland

Time of day:

Day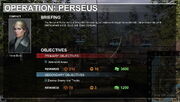 Operation: Perseus is a Defense PvE mission that looks like it takes place on a very modified Narrows map. It is given by the contact Hana Burić.
Briefing
The National Patriot Activist Army plan on stealing our missiles to target the capital city. Defend each silo until reinforcements arrive. Good luck, Black Company.
Primary Objective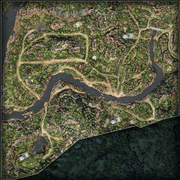 Defend All Areas, each with a timer of X:XX minutes.
Secondary Objective
Destroy Enemy Intel Trucks within X:XX minutes.
Strategy
Watch out for bots and mini-bosses that spawn around H1 and H2 that can push into the third capture point.
Rewards
Primary Objectives: 189 rep and 4860 cred.
Secondary Objectives: 87 rep + 2250 cred.
TOTAL: 276 rep + 7110 cred.
External Links