Leviathan
Operation: Leviathan
Alright Black Company, we've been hired to guard the Aurora satellite while they prepare for launch. The weather may get a little rough but other than that it should be a breeze. Patrol the coastline and keep an eye out for ships.
Details

Map:

Lost Island

Type:

Defense

Camo setting:

Woodland

Time of day:

Night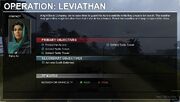 Operation: Leviathan is a Defense PvE mission that takes place on a modified version of the Lost Island map. It is given by the contact Raha Ali.
Briefing
Alright Black Company, we've been hired to guard the Aurora satellite while they prepare for launch. The weather may get a little rough but other than that it should be a breeze. Patrol the coastline and keep an eye out for ships.
Primary Objective
Protect the Aurora
Defend Radio Tower (x3)
Secondary Objective
Strategy
It is possible to lose one of the Radiotowers, without losing the mission. On the Hard Difficulty, it is not advised to get close to the western end of the Runway, because this will trigger the spawn of a mini-boss, accompanied by 2 normal Enemys.
Rewards
Primary objectives: 3x14+70 rep + 3x360+1800 cred.
Secondary objectives: 3x23 rep + 3x612 cred.
TOTAL: 181 rep + 4816 cred.
External Links